Complete M.O.T Testing Station
K P Motorcycles MOT Test Centre is based in Leeds, so is ideally placed for serving customers in The Area.
They are dedicated to providing a fast, efficiently service to all Leeds customers at Competitive prices.
Experience
​
We have over 40 years experience working on all types of Motorcycles.
​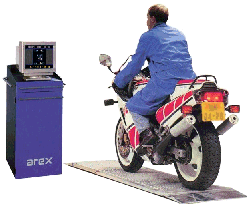 INFO
​
We carry out M.O.T preparation and testing on most motorcycles.

The M.O.T test has to be carried out when your motorcycle reaches 3 years old and then once a year.

The M.O.T ensures your motorcycle meets criteria laid down by VOSA and is safe to use on public roads.

To book your M.O.T please contact us and we will be happy to make an appointment to suit you.

The current price for the M.O.T test is £29.65 for solo motorcycles and mopeds.
Motorcycle Brake Analyser
The AREX Motorcycle Brake Analyser measures the braking system conditions accurate, fast and simple.
The motorcycle test can be done on a stand-alone system, but also on a part of a passenger car test-lane.
The motorcycle test is performed to the highest standards and is completed in less than 40 seconds.
Starting on weighing the motorcycle and then testing the brakes on the front and on the rear.
The conclusion of the test is clear and easy to understand.
The Arex Motorcycle Brake Analyser can be used forMOT Class I & II

​

The list below is not exhaustive but does cover the main points of the M.O.T test. Take a few minutes to give your bike a once over check and ensure that it is clean and tidy before presenting it for an M.O.T test.
Lights - condition, operation, security, and correct colour of headlamp(s), rear lights, indicators and reflectors. Also the headlamp(s) will be checked to see if the aim is correct.

Steering and suspension - condition, security and operation including: forks, mountings, controls, bearings, etc.

Horn - correct operation and the right type.

Exhaust system - complete, secure, correct type (road legal) and not too noisy.

Wheel alignment - correct alignment of front and rear wheels.

Frame - free from cracks, damage, distortion or corrosion which is likely to affect steering or brakes.

Wheels and tyres - wheel condition and security, tyre condition, size and type, and tread depth.

Brakes - condition, operation and performance (efficiency test), and brake controls.

General items - condition and security of final drive, footrests and seat.
When's my MOT due?
Not sure when your MOT is due?
If you are using your bike without a current MOT certificate your are breaking the law.
Click on the image below to find out when your certificate is due up for renewal
Before you start
You'll need the vehicle registration mark and either:
the MOT test number (you can get this from the VT20 test certificate or the VT30 refusal certificate)

the document reference number from the V5C registration certificate (logbook) if you don't have the MOT test number
Check if an MOT certificate is genuine
Compare your MOT certificate's details against what's recorded online to make sure it's genuine.